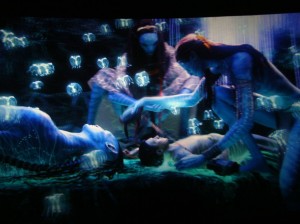 A lot of commentary has been offered on the religious aspects of Avatar. I have offered my own thoughts on this in a previous post. But with this entry I draw the attention of readers to the suggestion of Massimo Introvigne of the Center for Studies on New Religions that James Cameron may have been influenced by a particular form of New Age thought in Italy, the Damanhurians. Introvigne notes some of the similarities between Na'vi religion and that of this New Age community:
Like the Damanhurians, the Na'vi have their sacred language, and the use of it, both in Cameron's film and at Damanhur in Valchiusella, helps to indicate the difference with those who are not part of the community. Both the Na'vi and the Damanhurian citizens emphasize the value of being part of a 'people', a belonging that is not only ethnic but initiatic, and - as the protagonist of the film himself demonstrates - voluntary. The Damanhurians greet each other, recognizing the deep communion that exists between them, with the words, "Con te" (With you), not with the usual "buongiorno." The Na'vi do the same by saying "I see you." At Damanhur, every member of the community establishes a special - bilateral - connection with an animal, taking on its name. Amongst the Na'vi, every warrior becomes one by choosing a winged animal to ride, and by being chosen by it at the same time.
Introvigne's article "The religion of Avatar? It was born in Piedmont, Italy," can be read in its entirety here.