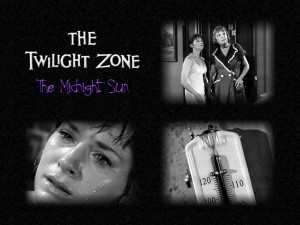 One of the things I look forward to each New Year's eve is the 48-hour Twilight Zone marathon on the Syfy Channel. With the close of 2009 and the shift into 2010 I spent several hours catching all the episodes I could and marveled again at how this series still holds up some fifty years later due to great television writing.
In a previous post I used an episode of The Twilight Zone as a metaphor in application to current events. I will do the same with this post as I consider the episode "The Midnight Sun."
This episode was written by Rod Serling and it aired on November 17, 1961 as a part of the third season for the series. Serling's opening narration, which can be seen in the video clip below, is as follows:
"The word that Mrs. Bronson is unable to put into the hot, sodden air is 'doomed,' because the people you've just seen have been handed a death sentence. One month ago, the Earth suddenly changed its elliptical orbit and in doing so began to follow a path which gradually, moment by moment, day by day, took it closer to the sun. And all of man's little devices to stir up the air are now no longer luxuries -- they happen to be pitiful and panicky keys to survival. The time is five minutes to twelve, midnight. There is no more darkness. The place is New York City and this is the eve of the end, because even at midnight it's high noon, the hottest day in history, and you're about to spend it in the Twilight Zone."
The story surrounds two women, Norma, and her neighbor, Mrs. Bronson, who are trying to cope with their last days on the dying planet. As the episode nears its conclusion the heat continues to mount, Mrs. Bronson dies as a result, and Norma collapses as the camera shows a thermometer bursting and one of Norma's paintings with its colors running from the extreme temperature. But soon after her collapse Norma revives to find that the world of rampant heat was nothing more than a hallucination caused by a fever. Then comes the signature Serling twist-ending: the world is not dying a heat death but is in fact moving away from the sun, plunging it into increasing cold as it builds to a frozen fate.
I think this episode can be connected in some sense metaphorically to a significant current issue and debate. Although allegations of global warming, now called climate change, were once considered fringe years ago, now they are mainstream. Indeed, those who are skeptical of it, or acknowledge its existence and yet question whether its cause may be traced to human activity, are considered on the fringe as global warming has achieved popular consensus, at times approaching the status of scientific if not quasi-religious dogma. For many, global warming represents one of the greatest challenges facing humanity, and the world is heating up much like it was for Brenda in "The Midnight Sun."
Surely it must be acknowledged that the West has often not exercised the care for the environment that it should have. But even with far greater emphasis on caring for the environment perhaps there are reasons for pause in regards to global warming before making major economic decisions related to carbon emissions while in the midst of a global recession. The hypothesis has come under greater scrutiny and skepticism recently, and many parts of the world are experiencing extremely low temperatures and snow falls. Recall that in "The Midnight Sun" Brenda's fear was that she was dying in an overheating world when in fact she was really dying in a freezing one. Have we come to the place where global warming has achieved the place of political and scientific dogma so that we won't engage in rational discussion over the issue or tolerate differences of opinion concerning it? And is it possible that our global warming "fever" might prevent us from considering other interpretive possibilities for the climate data, and the cyclical nature of weather patterns that at times move not only toward warmer periods but also toward ice ages?
This post might raise the ire of some as questions are raised about a "hot topic" in society, but Serling's entertaining vision from decades ago provides us with metaphorical food for thought related to this important issue. I conclude with Serling's closing narration for this episode:
"The poles of fear, the extremes of how the Earth might conceivably be doomed. Minor exercise in the care and feeding of a nightmare, respectfully submitted by all the thermometer-watchers in the Twilight Zone."
For those interested in exploring The Twilight Zone in more depth I recommend The Twilight Zone Companion, 2nd ed., by Marc Scott Zicree (Silman-James Press, 1989). See my previous interview with Zicree for further discussion of this classic program.