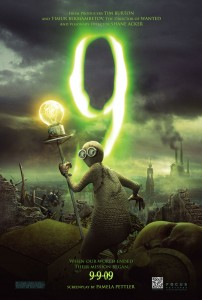 As usual, Comic-Con provided attendees and those who follow comics and the fantastic in pop culture with sneak previews for several interesting films soon to be released. One of those is 9, the lastest project of gifted filmmaker Tim Burton, who is serving as producer of this film along with Timur Bekmanbetov and Jim Lemley, and directed by Shane Acker. This computer animated film includes the voice talents of Elijah Wood, John C. Reilly, Jennifer Connelly, Crispin Glover, and others.
Synopsis
An action-packed adventure, director Shane Acker's animated fantasy epic 9 is the feature-length expansion of his Academy Award-nominated 2004 short film of the same name. The screenplay for the feature is by Pamela Pettler.
The time is the too-near future. Powered and enabled by the invention known as the Great Machine, the world's machines have turned on mankind and sparked social unrest, decimating the human population before being largely shut down. But as our world fell to pieces, a mission began to salvage the legacy of civilization; a group of small creations was given the spark of life by a scientist in the final days of humanity, and they continue to exist postapocalypse.
Another of their own, #9 (voiced by Elijah Wood), emerges and displays leadership qualities that may help them survive and possibly even thrive. The conflicted but resilient tribe already includes #1 (Christopher Plummer), a domineering war veteran and the group's longtime leader; #2 (Martin Landau), a kindly but now-frail inventor; #3 and #4, scholarly twins who communicate nonverbally and mostly with each other; #5 (John C. Reilly), a stalwart and nurturing engineer; #6 (Crispin Glover), an erratic artist beset by visions; #7 (Jennifer Connelly), a brave and self-sufficient warrior; and #8 (Fred Tatasciore), the none-too-bright muscle and enforcer for #1.
With their group so few, these "stitchpunk" creations must summon individual strengths well beyond their own proportions in order to outwit and fight against still-functioning machines, one of which is a marauding mechanized beast. In the darkness just before the dawn, #9 rallies everyone of his number to band together. While showcasing a stunning "steampunk"-styled visual brilliance, 9 dynamically explores the will to live, the power of community, and how one soul can change the world.
Although 9 is a computer generated animation feature it should not be construed as merely a film with appeal to children. As the synopsis indicates it is gritty, taking place in a post-apocalyptic scenario, and touches on deep questions such as what it means to be human, and the significance of living life with the spark of a creator's life. Adults and children alike should find plenty to enjoy in this film.
TheoFantastique is proud to be part of a Focus Features movie giveaway for 9. This involves prizes for five winners from this website that include a 9 Prize Bundle containing a book, official soundtrack, mini-poster, and trading cards (featuring all the characters). The entry period for this film promotional offer begins today and will run until just before the film's release on September 9. Those who would like to enter this contest for prizes should submit their name and address to johnm@theofantastique.com with "9 Movie Giveaway" in the subject line. Five winners will be chosen at random who will be notified on September 8. Prizes will be mailed to winners courtesy of the creative folks behind 9 and Focus Features.
Readers are encouraged to visit the website for the film at http://www.filminfocus.com/focusfeatures/film/9, and to tell others about the film release and movie merchandise giveaway.