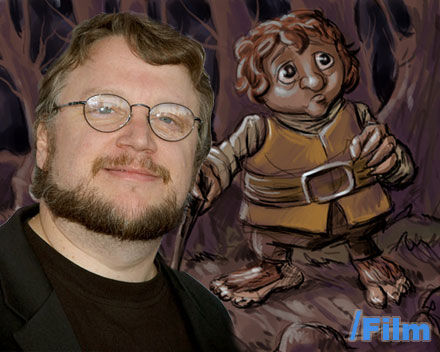 A friend who is aware of my passion for the fantastic, and that Guillermo del Toro is one of my heroes in this field, passed along a link to a recent article and brief interview with the film director. The article appears in WIRED MAGAZINE 17.06 from May 22, 2009. The piece is by Scott Brown, and it is titled "Q&A: Hobbit Director Guillermo del Toro on the Future of Film."
In the article Brown rightly calls attention to Guillermo's rise to fame in the fantastic, plucked from the obscurity of "fanboyland" to become the creative genius behind films such as The Devil's Backbone, Mimic, Blade II, and Hellboy, but also the academy award winning Pan's Labyrinth. As a result of his abilities in fantasy storytelling, Peter Jackson hand selected del Toro to "helm the two-part prequel to The Lord of the Rings" with The Hobbit.
The brief interview with del Toro is also interesting in that it presents a window into the filmmaker as broad storyteller who is willing to draw upon a variety of media to tell stories, whether film, television, or video games, and combinations of these media. At one point del Toro opines that "[i]n the next 10 years, we're going to see all forms of entertainment – film, television, video, games, and print – melding into a single-platform 'story engine.' ..The moment you connect creative output with a public story engine, a narrative can continue over a period of months or years. It's going to rewrite the rules of fiction." I'm excited about these possibilities, particularly with visionaries like del Toro involved.
The article includes a sidebar which catalogs del Toro's films, and notes that he is connected creatively to at least 11 movies coming out over the next decade. WIRED labels him "the dominant fantasist for this period," and rightly so. However, as the sidebar discusses his proposed film projects the shortcomings of the author are very noticeable in appreciating aspects of the fantastic. For example, del Toro would like to produce his own version of Pinocchio based on Gris Grimly's "dark 2002 novelized reimagining of the classic tale," and del Toro would like to do so through stop-motion animation. Reportedly del Toro would also like to draw upon stop-motion for the Ronald Dahl fantasy The Witches. But in WIRED's view, Henry Selick's Coraline, and the future Fantastic Mr. Fox are more than enough stop-motion for them. Contrary to WIRED's narrow vision, stop-motion animation is a unique cinematic art form that thankfully continues to surface from time to time in film through its patron saints such as Tim Burton and Nick Park. Hopefully del Toro will have the vision and gravitas as a director to draw upon this art form if he feels these stories can best be told through this medium.
The article also mentions del Toro's desires to direct a new version of Frankenstein, which is del Toro's "longtime passion project." Once again WIRED is not happy, stating that Kenneth Branaugh's 1994 film Mary Shelly's Frankenstein should serve as an indication that we do not need another "Frankenstein reboot." It's hard to know where to begin in response to this. In my view Branaugh's film was a good one, adhering closer to Shelly's book than most other cinematic treatments. Beyond this, the Frankenstein story has quite a longevity and cultural impact, and is hardly in need of rebooting. Del Toro may indeed have the creative vision to add his own contribution to the continuing Frankenstein mythology.
I am pleased by the possibilities posed by del Toro's popularity and I hope that his creative vision remains at the forefront of his future projects and are not subsumed under Hollywood's overarching desire for large box office receipts.