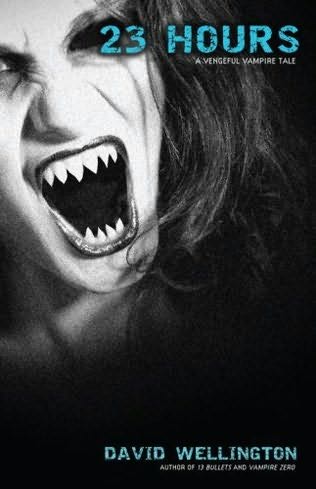 David Wellington, author of three previous vampire novels as part of the Laura Caxton series, including 13 Bullets, 99 Coffins, and Vampire Zero, is about to release the latest in his series with 23 Hours: A Vengeful Vampire Tale (Three Rivers Press, 2009). The press release for the forthcoming book describes its storyline:
After killing her form mentor-turned-vampire, U.S. Marshal Jameson Arkeley, Caxton was nearly left for dead. Taken to prison for assaulting a convict, she now faces her most harrowing hours yet. Locked up in a Pennsylvania correctional facility that holds the state's death-row inmates, not to mention countless murderers and drug dealers whom Caxton herself has put away, she is an easty target.
But it gets worse. The oldest living vampire, Justinia Malvern, is still on the loose and manages to infiltrate the prison. There she uses the inmates as livestock – taking daily donations of blood at will and slaughtering any who don't cooperate. But it's Caxton's blood she's most hungry for, and when Caxton's girlfriend, Clara, comes to visit but ends up trapped there, Justinia will use her as a pawn to get to her most sought-after prey…
23 Hours can be ordered via the TheoFantastique Store, Amazon.com and Three Rivers Press.
Related posts
See TheoFantastique's interview with David Wellington here.
My interview with Gordon Melton, author of The Vampire Book: An Encyclopedia of the Undead, on vampire mythology.