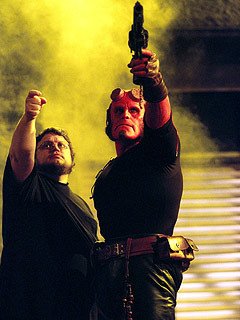 Given that my family has shifted in the last couple of years to opening Christmas presents on Christmas Eve, and that the vast majority of the gifts that I receive are related to the genres of the fantastic, I really do have a Nightmare Before Christmas. One of my gifts this year has been especially enjoyable, a copy of Hellboy II: The Golden Army on DVD, and after watching it on Christmas Day it spawned a few thoughts for what they're worth.
I remember as I enjoyed the fantastic as a kid that many of my teenage friends enjoyed horror (few teens don't), and a few fellow geeks liked science fiction, but very few shared my love for fantasy films (until Star Wars, that is). Unless fantasy is framed in children's garb (e.g., Harry Potter) or dark action (e.g., The Dark Knight), it tends not to receive the popular or critical attention that I believe it deserves. And very few filmmakers even attempt to put together good fantasy films for adults. That is, until Guillermo del Toro.
I have long been a fan of del Toro's work who has proven himself a competent director and storyteller with horror films such as Cronos (1993), Mimic (1997), and The Devil's Backbone (2001), as well as comic action films like Blade II (2002) and Hellboy (2004). All of these films are very enjoyable but it was his work in Pan's Labyrinth (2006) that established him as a visionary filmmaker, not only as a director, but also as a writer with a special gift for fantasy films.
As I have posted previously, Pan's Labyrinth incorporate myth, archetype, and symbol into his a story that provides for multiple levels of meaning and interpretation. This film caught the attention of the viewing public and garnerd three Oscar awards. In many ways Hellboy II is a sequel to Pan's Labyrinth, at least in terms of the mythic dimension it incorporates. With this second installment in the Hellboy series based upon the comics of Mike Mignola, del Toro creates an expansive mythic and fairytale world for the characters to inhabit that is multifacted, rich in depth and detail (e.g., the words on a portal to Troll Market relate to a Jungian concept), and visually stunning. For fans of fantasy films and mythmaking, Hellboy II is a true pleasure to watch, and additional rewards come from multiple viewings so that more of the depth and detail can be appreciated.
For many years I have been, and remain, a Ray Harryhausen fan. For generations of people he has been the king of fantasy films who brought creatures to life through stop-motion animation who appeared to live and breathe in mythic worlds. But in many ways in my opinion, and I say this as a serious fan, Harryhausen's films lacked a depth of mythology that interfered with their ability to be appreciated by broader aspects of popular culture. Even so, Harryhausen is an icon in fantasy films who inspired a number of filmmakers, including del Toro. Perhaps del Toro might be considered in some sense as Harryhausen's successor, the next generation of fantasy filmmakers, who is able to put together fantasy films that not only entertain on a surface level, but also incorporate aspects of myth, archetype, and symbol that make for a rich tapestry that rewards deeper reflection.
Guillermo del Toro has expressed an interest in making another Hellboy film to complete a trilogy. As a fan of his myth-making I hope is able to make it. If not, perhaps another cinematic endeavor will enable him to build on the mythic vision of Pan's Labyrinth and Hellboy II. The realm of imagination will be the richer for his continued artistic expression.