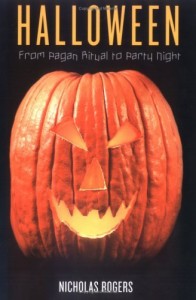 Of course, tomorrow is Halloween, one of my favorite holidays and times of the year. Therefore, this website would not be complete without some kind of commentary on the topic.
Over the last couple of years I have written on Halloween and related topics on another blog of mine, and I thought I'd use this opportunity to draw upon one of those previous posts with some revision for this website's context. Halloween is fascinating in its development through history and its manifestations in various cultures. It incorporates a number of interesting facets, such as providing participants with an experience of liminality. social inversion, and festivity. Research for a series of presentations I gave in 2006 gave me the opportunity to research these in more depth.
A few years ago I was asked to speak at Cornerstone Festival in Illinois in their Imaginarium venue. The theme sought to engage aspects of differing cultures as they grapple with death through festivals, symbolism, ritual, and popular cultural elements as well, such as film and literature. My contribution to that year's intellectual and artistic synthesis was a three-part cross-cultural look at North American Halloween and the Mexican Dia de los Muertos or the Day of the Dead.
In the first session I traced the historical and cultural origins and development of Halloween, from its earliest antecedents in Pagan Samhain as an agricultural and mythical festival, to the influence of Catholic All Souls' and All Saints' Day, to its continued development in North America as a form of public pranking and significance in courtship rituals expressions in the eighteenth and nineteenth centuries. As Halloween continued to develop in response to the cultural and subcultural contexts of America, it eventually became influenced by popular culture, particularly in the 1970s through the horror film genre. Today it is increasingly popular, and functions as a means for children and adults alike to engage in costuming, identity exploration, and social inversion, existing largely as a secularized and consumer driven pop culture phenomenon far removed from any religious or spiritual aspects of previous Pagan influences.

My second session noted that the Mexican Day of the Dead is very different. This is a deeply religious celebration with some similarities to Halloween in the form of costuming, street requests for sweets and foods, and engagement with issues related to death, but the differences far outweigh the similarities. Celebrations include the making of sweets and special foods (such as "Bread of the Dead" and sugar skulls), the creation of family altars for the dead, and visits to grave sites. For Mexicans the Day of the Day is a marker of ethnic identity which encompasses festival, symbol, and ritual as a means for families and communities to both mock death and embrace it as a reality of life while also facilitating the continuing bond between the living and deceased ancestors.
One of the facets of my third session involved a contrast of Halloween and the Day of the Dead in North American and Mexican cultures. I noted that in America the Halloween celebration functions on a superficial level in the culture in ways that entertain aspects of popular culture from an individualistic perspective as participants engage in costuming and identity play. But the secular Halloween celebration really does not deeply and meaningfully engage death. By contrast, the Mexican Day of the Dead provides a religious festival for individuals and the culture to engage the reality of death and the continued connection of the living and the dead through a rich reservoir of symbol and ritual. It would seem that North Americans can learn a lot from our neighbors to the South in terms of cultural festivals.
Readers will benefit from consulting good sources on the history and cultural evolution of Halloween. Recommended resources include Nicholas Rogers, Halloween: From Pagan Ritual to Party Night (Oxford University Press, 2003); Jack Santino, Halloween and Other Festivals of Death and Life (University of Tennessee Press, 1994); and David J. Skal, Death Makes a Holiday (Bloomsbury USA, 2002). See my interview with Santino on Halloween as folk festival from 2007 here.